Overview
The Best Interests Procedure (BIP) is a mechanism that UNHCR uses to ensure that the best interests principle (set out in Article 3 of the UN Convention on the Rights of the Child) is respected in work with individual children.The Best Interests Procedure is UNHCR's framework for child protection case management - it describes the standards and processes for doing individual case management with children at risk.

States are primarily responsible for implementing the best interests principle and best interests procedures. Efforts should be made to integrate with or build on existing national procedures wherever possible, and to involve government child protection authorities when implementing best interests procedures. However, where UNHCR implements and/or oversees individual case management for children at risk, the Best Interests Procedure, as described in the Best Interests Procedure Guidelines (BIP Guidelines), should be applied.

The Best Interests Procedure is a key element in child protection programming for UNHCR and partners. Broadly, the term 'best interests' refers to the well-being of a child. It is determined by a variety of individual circumstances (age, level of maturity, the presence or absence of parents, the child's environment and experiences).

A best interests procedure includes comprehensive child protection case management throughout 6 key steps: identification, best interests assessment, action planning, implementation, follow up and case closure. There are two key procedural elements for making decisions throughout the different steps of case management: best interests assessment (BIA), and best interests determination (BID).
Best interests assessment (BIA). A BIA is an assessment of an individual child, designed to ensure that the child's best interests are the foremost consideration. A BIA must be conducted by staff with adequate training and with participation of the child in the process. A BIA should take place as soon as a child is found to be at risk; it can be reviewed and updated regularly until a durable solution is implemented. A BIA should be carried out, for example, before tracing occurs or a child is found temporary care. A BIA should be seen as an essential element of case management and general child protection.
Best interests determination (BID). BID is a formal process with strict procedural safeguards. It determines the child's best interests on the occasion of particularly important decisions that affect the child. A BIA should permit the child to participate, should be conducted by decision-makers with relevant expertise, and should balance all relevant factors to determine the best option. For more information, including the circumstances in which a BID is required, see Chapter 4 of the BIP Guidelines.
Main guidance
Protection objectives
To ensure that girls and boys with specific needs receive comprehensive, quality case management and targeted support.
To ensure that decisions made on behalf of girls and boys with specific needs support their wellbeing and are governed by the best interests principle.
To strengthen national child protection systems and make sure that children with specific needs have prompt and appropriate access to a best interests procedure on an equal footing to host community children.
Underlying principles and standards
UN Convention on the Rights of the Child.
The best interests principle is one of four core principles (alongside survival and development, non-discrimination, and participation) at the heart of the Convention. The principle declares that a child's best interests should be the primary consideration in all matters involving or affecting him or her. It is highlighted in General Comment 14 of the Committee on the Rights of the Child, which asserts the relevance of the principle to a number of specific situations, including decisions on care and custody (see especially, paragraphs 9, 10, 19, 20, 22).
UNHCR, Best Interests Procedure Guidelines.
Establishes UNHCR's standards for setting up and applying the best interests procedure. The Guidelines are supported by a training package and toolkit.
Additional essential principles are that best interests procedures should be child-friendly and child-centred; do no harm; seek informed consent; respect confidentiality; ensure accountability; and empower children and families.
UNHCR subscribes to the Minimum Standards for Child Protection in Humanitarian Action (SPHERE companion standards), including its core principles and standards for child protection work. The

Minimum Standard on Case Management

(Standard 18) details principles and key actions with respect to case management, including actions relevant to best interests procedures.
Protection Risks
Children at risk do not receive adequate support targeted to their specific needs.

If a best interests procedure is not in place, children at risk may not be identified or may not receive assistance adapted to their needs, putting them at greater risk.

Decisions have profound negative consequences for the child.

If BID safeguards are not followed or the procedure is not well implemented, decisions may be taken that have profound negative long or short term consequences for the child in question.

The procedure may be poorly designed or involve unsuitable partners.

When inviting partners to participate in best interest procedures (as caseworkers or panel members), it is important to carefully assess their capacity and the risks for children. Consider political bias and protection risks, and capacity to handle sensitive information.
Other risks
Legal consequences for UNHCR. If UNHCR fails to take adequate care in implementing best interests procedures, it could be vulnerable to legal action. (For example, if a BID concludes that an unaccompanied child should accompany his or her current caregiver into resettlement, but UNHCR does not take adequate steps to trace the child's parents and secure reunification or consent, it could be sued for actions amounting to abduction.)
Key decision points
When designing a best interests procedure, key considerations will include: the capacity of the child protection system; the extent to which best interests procedures apply to refugee situations; the capacity of child protection partners and their familiarity with the best interests procedure; the geographical scale of the emergency and the number of people affected.
Key steps
1) Review existing national best interests procedures and the potential for integration
Analyse the existing child protection system, including relevant laws, policies and capacities, and national best interests procedures. Note that these could include judicial procedures as well as social work procedures.
Contact and discuss with the national authorities responsible for best interests procedures to identify capacities and gaps with regards to children of concern, and, wherever possible and appropriate, develop a plan with national authorities to ensure access.
If it is necessary to implement supplemental or substitute procedures in an emergency (e.g. where a national government is unwilling or unable to avail national procedures for children of concern, or where these procedures are not appropriate), design best interests procedures that link with or build on national procedures, taking into account the political environment.
Note that wherever UNHCR is operational, we will normally need to implement some aspects of the Best Interests Procedure in the course of the execution of our protection mandate, even if only with regards to internal decision-making on individual cases (e.g. in relation to resettlement).
2) Take steps to establish the Best Interests Procedure that reflects comprehensive child protection case management
Conduct a mapping of existing services and partners, and identify capacities and gaps for child protection case management and the Best Interests Procedure.
Where UNHCR is implementing the Best Interests Procedure, designate roles and responsibilities for UNHCR and partners. A BID supervisor should be appointed in UNHCR (and, if necessary, a partner agency) to oversee the arrangements made and implement the procedure.
Develop and adopt standard operating procedures (SOPs) for the Best Interests Procedure, in consultation with stakeholders; they can be integrated in the overall child protection SOP. These should include prioritisation criteria, as well as appropriate services and actions for children with different child protection concerns. For guidance on SOP development, see the toolkit.
Establish or strengthen the coordination mechanism for BIP to ensure that partners are working in a coordinated and harmonised manner. Be sure to link with SGBV colleagues and partners to make sure that roles and responsibilities for child survivors are clear and aligned with capacities.

3) Build the capacity of UNHCR and partners
Train relevant UNHCR and partner staff on the Best Interests Procedure. Note that if partners are conducting quality child protection case management, they do not need to change their practice, they only need to be trained on the procedural elements that are necessary for children of concern – e.g. the BID.
Build the capacity of child protection caseworkers, by means of training and mentoring. A minimum initial training on BIP and related tools (forms, prioritization criteria, etc.) is required.
Identify mid- and long-term staff and programming requirements. With partners, identify what additional staff, and financial and material resources, might be required to ensure that children's needs are adequately assessed and recommendations properly implemented.
Provide training for all regular BID panel members and their alternates. UNHCR has a standard BIP training package which can be adapted to context.
Ensure that all staff involved in the Best Interests Procedure (including caseworkers, interpreters, BID panel members, etc.) have signed UNHCR's Code of Conduct and an undertaking of confidentiality, and have received at least basic training in UNHCR's BIP Guidelines.

4) Use BIAs to screen and prioritize children at risk, including at reception and registration
Identify vulnerability and prioritization criteria for children at risk and place trained child protection staff (from UNHCR or partners) as focal points at registration or other key points to help identify children at risk. It is recognized good practice to run preliminary BIAs at registration, to make an initial triage and prioritize cases.
Adapt the BIA form as needed, and have it translated into relevant languages where appropriate so that the form can be used easily by child protection staff. You may need several BIA forms at different stages. (For example, a very short screening form at registration, if numbers are high, and a more detailed form for use later.) Remember that BIA forms can be adapted; the only requirements are that the child should be assessed by a qualified member of staff and that the assessment must be documented.
Link all BIP processes to case management information management systems, especially proGres and the Child Protection Information Management System (CPIMS) (if used). ProGres V4's Child Protection Modules includes full functionality for child protection case management.

5) Take steps to establish a BID panel
It can take time to form a complete qualified BID panel; it may not be possible to do so in the initial phases of an emergency. UNHCR should aim to establish BID panels within 3–4 months.
Before a BID panel is established, create a process for dealing with urgent cases. You might use an existing national BID panel or convene focal points with child protection expertise on an emergency basis. A simplified BID procedure can also be used.
At least three and no more than five separate agencies should be represented on a BID panel (one representative per agency). Case workers and experts can be invited to present information on cases, as required.
It may be necessary to establish one BID panel for a large geographical area initially, then additional panels at local level gradually, as capacity increases. BID panel meetings should not discuss more than 6-8 cases at one sitting, because each case requires thorough analysis and the full attention of panel members.
Key management considerations
Legal and policy framework.

Has UNHCR taken into consideration national policies and structures with respect to the best interests principle? Is UNHCR linked to and working with the national best interests procedures?

Knowledge and data.

Are measures in place to manage and analyse information collected through BIP? Is the Child Protection Module of proGres V4 or an equivalent system being used to track and monitor children in BIP? Is data on BIP being analysed to improve prevention and response programming for children at risk?

Coordination

. Are a coordination structure and referral mechanisms in place, enabling actors involved in the Best Interests Procedure to examine and solve problems that arise? Are BID panel activities coordinated effectively?

Human and financial capacity.

Have BIP Supervisors been appointed by UNHCR or UNHCR's operational partners? Are sufficient staff in place and do they have sufficient training to undertake BIP? Have interpreters received the necessary training?

Prevention and response.

Is the Best Interests Procedure an integral part of the overall child protection programme, or a standalone component? Do child protection services respond adequately to needs identified through BIAs? Are BID decisions implemented as part of the child protection response or are additional services required?

Advocacy and awareness.

Is advocacy required to ensure that all stakeholders participate in BIP processes and implement BIP recommendations? Are all parties sufficiently aware of the best interests principle and associated procedures?
Resources and partnerships
Human resources
Staffing for the Best Interests Procedure, whether implemented by UNHCR or partners, follows the standards for child protection case management: 1 caseworker for every 25 children in case management, and 1 case manager for every 5-6 caseworkers. Note that usually there are more children who may be in need of case management than there are staff available at the outset of an emergency – in this case, it is better to tighten prioritisation and closure criteria than it is to overwhelm caseworkers with large numbers. Expect to need and plan for more staff at the beginning of an emergency.
In addition, even where partners are implementing the bulk of BIP, UNHCR itself may need specialised staff at the outset of an emergency specifically to manage BIP. It may be necessary to hire a specialised BID supervisor. In emergencies, it is also advisable to have a UNHCR child protection specialist available to help set up the best interests procedure.

Financial resources
Significant training and technical support is often required for operations, especially where the population includes a large number of children, or many children at risk (such as separated or unaccompanied children). In addition, resources must be allocated to train and supervise the many new staff who are hired in an emergency. Consider whether translation is needed, if caseworkers cannot work in the same language as panel members or case supervisors.
A budget should be allocated for BID panel meetings and (if it is not an item in the child protection programme) for implementation of BID panel recommendations.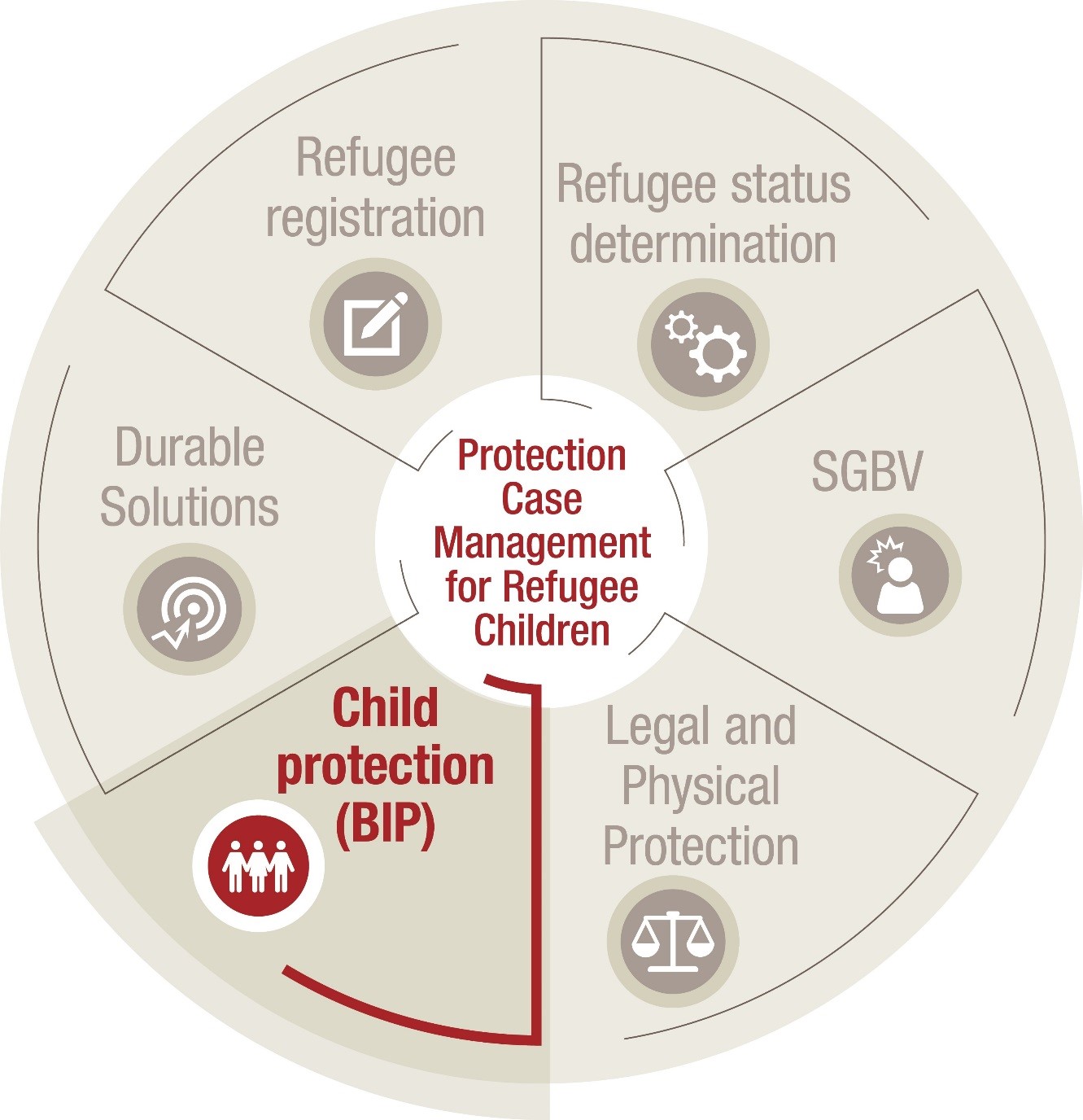 Links
Main contacts
As a first port of call, the UNHCR Dep. Representative (Protection), UNHCR Asst. Rep. (Protection), and/or Snr Protection Officer in the country; or the UNHCR Snr. Regional Protection Officer (SGBV/Child or Community-based). The Child Protection and Youth Unit in DIP can also be contacted for technical support.